Good morning everyone!
I hope you all doing good 🙂 I uploaded three YouTube videos for the past few days, and today I will talk about them, hopefully you will like them all.
Let's start with watercolor pencils tutorial:
I lot of people struggles with watercolor, including myself. However this tutorial may help you a lot to learn about water coloring, even a kid can paint a master piece!
Pencil watercolors are unlike the palette and tube one, they're easy to use and you have more control.
If you have any questions, please ask in the comment section below 🙂
To be honest I did not put any remarkable effort in this one, the character is so bad and the video quality is just awful, the whole thing was poorly made and rushed; because I was late from the schedule 😦 Even myself I don't like it anymore, and I feel this won't help me or help anybody. I will do it again after long period of time with better qualities.
Tool:
Watercolor pencils
Watercolor paper.
Tape
Water
Brushes
Music:
Capo production Above Everything.
Next one is actually not intended, but I did it anyway. It's a sketches of the latest article I wrote "How to spend summer vacation".
I thought people might be interested to see how things are drawn including my articles sketches, I will try my best to continue doing these type of videos if the next articles have sketches. Nothing much to say.
I only used Manga Studio 5, no reference used.
Music:
Emancipator – Vines
The last one I uploaded yesterday is Oz from Pandora hearts ❤
I brought Pandora hearts Artbook in Dubai just before I go to Brinannia! and when I saw Oz with this cool outfit, I just had to draw him!!
To me this was a big challenge, I don't have a big varity of copics and pro markers, which made the shading a lot harder and I had to use my trusty pencil colors to shade. I really wish to have a bigger set of markers, especially copics, but I still cannot afford it just yet. I may go to store to buy more promarkers, even though I don't like it too much in the beginning; because it doesn't have the brush tip like copics, but they really did a great job with Oz! Now I'm starting to like it ❤
The Artbook was expensive, no joke! but for me it worth it!! I will do a review about it so stay tuned<3
Tools:
Copic markers Basic set.
Pro markers 2 sets.
Soft pastel.
Faber Castell pencil colors 36 set.
Napkin
Cotton swap
Eraser
Ruler
Music:
Pandora hearts- A shadow.
by Yuki Kajiura (Composer).
You can see the full pic here: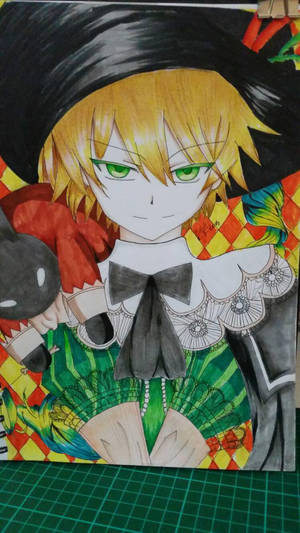 As you know this is not my character, fanArt. I used this pic from the art book as a reference:
http://vignette4.wikia.nocookie.net/pandorahearts/images/f/f8/Chap28.jpg/revision/latest?cb=20121112125119
I don't own Pandora hearts or the music clearly 🙂
Have a nice day ❤
~Mikan