Hello fantastic readers!
A couple weeks ago I finished playing Danganronpa 2 AKA Danganronpa goodbye despair, and OMG. I don't want to spoil anything, but I have to admit that Chiaki taught me a very important lesson, thus she's my favorite character in the game.
She taught me to believe in myself and believe in hope, she taught me that you cannot start believing somebody unless you overcome doubt, so when your dear friend doubts you, he does not mean he distrusted you, he wants to believe in you.
It may sound silly to learn these priceless lessons from games and anime, but for me it's more than that.
I know I did blabber enough about it in YouTube and Instagram; I need to tell why she's more than that before I delve in drawing. I taught myself to learn the goods and stay from the bad and evil in everything, including games and anime. Which mean what Chiaki taught me for example to believe in hope, how should I do that in real life? She's talking about believing hope to get off from the island. Well imagine 'key? You are studying abroad, and a lot of stuff happened and you're home sick, you have to believe in hope that every bad thing will be gone, you have to stay positive and believe in hope; because if become negative you will be dwelled in darkness and despair, you will turn your life to a living hell.  Don't be like Enoshima Junko –The Ultimate Despair- full of darkness and despair, be like Naegi Makoto –The Ultimate Hope- full of light and hope; if you want to imitate yourself as one of the characters.
Anyways, let's talk about the drawing itself now shall we?
You can see the video right here:
I originally wanted to upload the chicks challenge speed paint video, but I drew it while having an art block so I'm…not very happy with it. I did recorded a sketch of it though, If you want to see it then tell me in the comments below, I will humbly upload it on my channel.
You can see the full pic right here: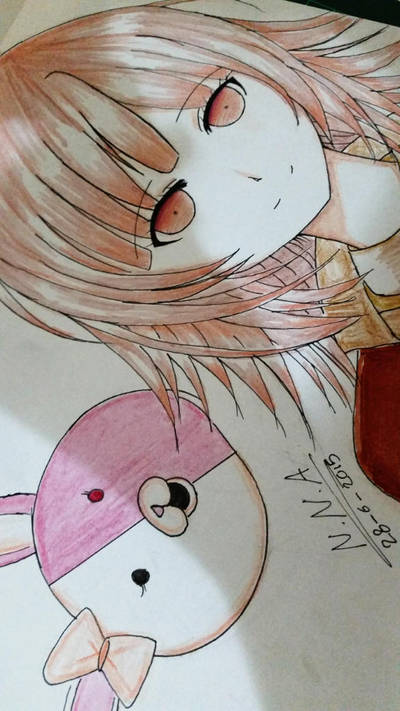 Music:
Danganronpa OST- New World Order (ニュー・ワールド・オーダー)
This track composed and arranged by Masafumi Takada.
Tools:
1- Pro Markers
2- Nano Liner
3- Eraser
4- Comic marker pad – A4
I don't have any idea if I colored on the wrong side, because the colors have like a weird thing going out, I don't know
It's like the paper is wet and you color over it, Idk if it's supposed to be like that-It's paper made for marker, so it won't bleed through- I don't personally like it so much. When I sketch on it, I didn't realize sooner, but it seems it's that type of paper that smudges so easily so I have to wear gloves.
I like the new marker set though! It's a present from my bro and its pastely spring color-ish. When I saw the markers I was like: "This color scheme is exactly like Chiaki and Monomi!!  I have to draw them and color them with the new markers!!"
I have an art block, I guess you can tell, very horrible line art T_T I did struggled a lot to draw them.
Hope you like this one!
There's a coloring tutorial vid tomorrow, so stay tuned!
Have a relaxing evening.
~Mikan